Saturday, August 25, 2007
Colorado Springs and Pueblo, CO Hail Damage Confirmed
It looks like there was widespread hail damage in Pueblo, Colorado as well as the North side of Colorado Springs, Colorado.
I found this
news report
and these videos. watch them
here
and
here
.
State Farm Insurance is reporting 3500 auto claims so far from this storm. You know that number will probably double before it's over. Be careful when you check those
used car listings
to be sure the car of your dreams hasn't been beat up with hail.
Colorado sure is pretty this time of year!
Tuesday, August 21, 2007
Muncy, Indiana Video
Lincoln, Nebraska Hail
The information I've been able to turn up so far on the Lincoln, Nebraska hail damage reports doesn't look too impressive.
I found
this story
out of Lincoln that talks about the wind and power outages but if you scroll to the bottom of the article you'll find a picture of the hail that is not very big, maybe quarter size.
Nothing yet on any of the other Kansas or Nebraska hail. I'll keep looking.
Monday, August 20, 2007
Hobart, Indiana
This is a couple of days old but I found this confirmation of damaging hail in Hobart, IN.
The
news story
itself doesn't actually
provide
the confirmation but this comment does;
'

flexvision

wrote on Aug 16, 2007 12:49 PM:
" Quarter size hail damage my car in

hobart

and uprooted trees on our
street. electricity cane on @ about 8:30a.m. winds recorded @ 68 '
No confirmation on the
Indianapolis
hail damage reports yet.
Saturday, August 18, 2007
New Hail Damage Confirmations
Piedmont and Black Hawk, South Dakota
It looks like the Black Hills of South Dakota got slammed again, this time Piedmont, SD seems to have gotten the worst of the hail damage from a widespread storm that moved through the entire area. The Rapid City Journal has a very comprehensive article with damage area detail
here
. Take the time to read the comments at the bottom of the article for an idea of the storm's fury.
Northeast Pennsylvania
It looks like all of the hail damage reports coming out of Pennsylvania are completely legitimate. I found confirmation from
Jake's Blog
of the storm damage in Jim Thorpe, PA as well as
this link
to a news story with a great slideshow of damage in Muncy, Palmerton and Hazelton, PA as well. I also came across
this story
that has general info about the storm.
The South Dakota stuff looks pretty bad but there may be some good work mixed in. The Pennsylvania hail looks like it should be mostly good work with some bad stuff mixed in.
Good luck! Hopefully this is a trend that will continue.
Friday, August 17, 2007
Indiana and New York Hail
The news media stories about the Clarksville and Jeffersonville, Indiana storm reports are all focusing on the wind damage angle. I did catch one blurb in an interview where a woman made the comment that the hail got bad enough she pulled her car into the garage. That was in Jeffersonville, Indiana.
In New York I found one article that mentions ping pong ball hail in Oriskany, NY. You can read the article
here
.
As far as the Minnesota hail goes, this is what I have observed on the ground:
White Bear Lake and Mahtomedi are as I described yesterday.
The damage path stretches across Blaine, Circle Pines, Lexington, Lino Lakes, Shoreview, North Oaks and Vadnais Heights. It's a nice large swath of damage but the vast majority of the damage I have seen is pretty minor.
I have visited with three body shops in the middle of the storm path that have not seen a car yet. I have visited with a couple others that have only had a little activity. There are a few retail shops set up and none of them have any activity. It's just not looking like there is very much excitement this go around. We'll know by Monday evening.
Thursday, August 16, 2007
White Bear Lake, MN
I got a chance to check out the hail damage in White Bear Lake, MN and the surrounding area yesterday afternoon. The damage I found was less than expected considering the reports that came out right after the storm.
The damage in White Bear Lake seems to be fairly widespread but light with 3-7 quarter to golfball dents per panel at best. I did see a few units with heavier damage so there may have been a strong core to the hail storm or they could have been hit in a different storm. There have been so many storms in this area this year it's hard to tell.
The debris pattern on the ground suggests the residential areas of White Bear got hit but not very hard. The debris also suggests the communities on the east side of the lake got hit as well. (I don't have my map in front of me right now so I can't remember the name of that town.)
The damage was light enough at the dealerships in White Bear I will be surprised if they fix it any time soon and if they do it'll almost certainly be CHEAP.
I also did not notice any real activity at any of the body shops (Other than guys hanging banners.) or insurance companies to suggest people were very excited about the damage.
I'll post more as I find it. Stay up to date by
subscribing to my feed
.
Tuesday, August 14, 2007
Minnesota Hail...It's Good!
From the early reports I'm finding, it looks like the North side of th Twin Cities got hit pretty good all the way across Blaine, Shoreview, Vadnais Heights and White Bear Lake. I've been able to find a couple of confirmation reports from that area. You can read them
here
and
here
. I also found this
slide show
of the hail and strom damage.
These reports are good. I can't wait to see what happens over night!
Monday, August 13, 2007
Rochester, MN
I've been searching and searching for some confirmation of the Rochester, Minnesota hail damage report with no real luck. The only thing I've been able to find so far is this newspaper article from the Rochester Post-Bulletin.
All it does is mention the weather service reports.
It does, however, mention a couple of reports I didn't see. Of course, these could just be typos too. You can read the story
here
.
Sunday, August 12, 2007
What's a Toonie?
If you were like me, you didn't know what they were talking about in that news report out of Dauphin, Manitoba that referred to hail the size of a
toonie.
Well, I asked if one of our Canadian readers could enlighten us poor ignorant Americans to this term. We got a great response from Bev who lives in Dauphin. Not only did she educate us about toonies she even provided some pics of the hail and a first hand account of the storm.
First the Toonie. The coin on the right is a quarter, the one in the center is a dollar or "Loonie" and the coin on the left is a two dollar or "Toonie". It looks to be about the size of our Half Dollar. You crazy Canadians, what'll you come up with next?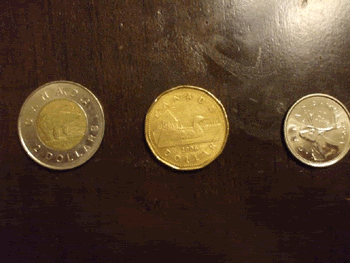 Next up is one of the hail stones. As you can see it's flat and jagged and measures about 10 centimeters across. Oops, sorry, I was speeking Canadian there for a second. It's about four inches across.
Last up is a pic of Bev's dad putting his fist through a hole in the heavy poly wall of the greenhouse they own.
This is Bev' description of the storm.
"Dauphin looks like the aftermath of a major disaster or something.
The mood of the town feels like everyone is confused and
not to sure where to start or what to do.
All insurance companies are all busy saying it could take weeks
to get to us. MPI (Auto Pac Insurance) is saying to call get
a claim # to get started and if you want get the damage fixed
if you want before the claim date and bring them the bill after.
All people seem to agree on is that this is and was f-ing crazy!!!!!!
Never seen this before said this 70 sum yr old man."


That doesn't leave much to say other than, Thank You Bev!


**** On Edit ****


An annonymous reader says some of the hail in Dauphin was only tennis ball size. That's still pretty big but not as bad for working. They also gave us the following image.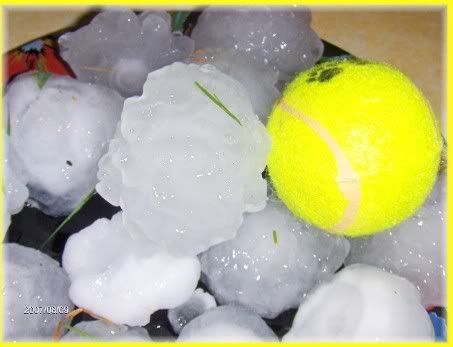 Thanks, Annonymous!
Friday, August 10, 2007
More on Dauphin, Manitoba
You might want to
read this
before you take off for Dauphin.
Dauphin, Manitoba, Canada Hail Damage
Confirmed hail damage report from Dauphin, Manitoba, Canada. I found this story in the Winnipeg Free Press about a Thursday night storm that moved through Saskatewan and Manitoba. It looks like Dauphin got hit with the worst of the hail. The complete story is
here
.
So, one of you Canadian guys want to tell us what a toonies are?
Tuesday, August 07, 2007
Those Crazy Canadians And Their Video Cameras
I usually have a hard time finding video of recent storms. Not this time. There are at least four or five videos of the Ft. McMurray hail storm. This is the best one I found.






This vdeo isn't that bad but the stills I saw were nasty, lots of broken glass in houses and cars. Have Fun!!

Monday, August 06, 2007
Fort McMurray, Alberta, Canada
Here's a hail damage report confirmation out of
Ft. McMurray, Alberta, Canada
. It's a couple of days old but looks pretty good if you can work there. You can read the story
here
.
More Specific Maine Hail Damage Reports
This is shaping up to be a nice widespread storm.
This article
gives some really specific locational information on the hail damage.
I'm tied up right now or I'd already be there. I think this might be a good one.
Good luck and keep those prices up!
Sunday, August 05, 2007
Maine Hail Damage Report Confirmed
It looks like there was some pretty bad micro-burst wind damage with this system but you can read the particulars of the hail damage
here
.
I post these updates as I find them. You may want to consider subscribing to my
RSS feed
. Just keep in mind that sometimes it takes more than an hour for the feed to update.
I still don't have anything on the New York stuff yet.
Looking, looking, looking.
Saturday, August 04, 2007
I've Got Bad News
Before you decide to drive to Rapid City you should read
this article
. TV stations always sensationalize reports that's why I always try to find newspaper stories instead. Do what you want but I wouldn't run on this one.
I can't find anyhting on Maine yet but the reports look very good. The only problem is most of the towns are small.
Confirmed Hail Damage Reports
Rapid City, South Dakota
This one looked good on the report and it's real. The confirmation is
here
. Read the whole article and watch the video. It looks like the South edge of town got hammered but it also looks like there may be some good workable damage up into town.
If you are familiar with Rapid City you know that there are some pretty good size neighborhoods out there but it turns into tourist traps pretty quickly the further South you go.
The biggest problem with Rapid City now is finding a hotel room because of the Sturgis Ralley.
God luck and have fun!
Adrian, Michigan
This report just turned up Thursday evening and I found it last night. You can read it
here
. It looks like quite a bit of damage but it is over a week old.
That's what I've been able to verify. I'm still looking on the New York and Maine reports. It's really hard to verify hail damage reports up in that area but the SPC reports do look promissing.