Friday, September 21, 2007
Fargo, North Dakota Hail Damage
Dawson, MN Confirmed - Twin Cities Maybe
Dawson, MN
We've got a confirmation of damage from the hail report for Dawson, MN. This article from The Independent in Marshal talks about vehicles and home siding being damaged in town.
Twin Cities, MN
I'm assuming you saw the reports for the Twin Cities area. The reports didn't look very good but I found this story from a TV station that had some pics with it. As you will see below some of this hail looks decent. The only problem is they don't say where it came from.
So, there's the mystery. For all I know, the large hail could have come from Litchfield, MN, which I haven't been able to confirm yet.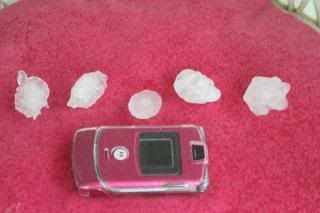 Fargo, ND
I know that report out of Fargo looked good but, so far, I haven't been able to confirm it. None of the media outlets have updated this morning. Hopefully I'll have something on this soon.
>
Tuesday, September 18, 2007
Air Pollution Causes Larger Hail
Sunday, September 02, 2007
Hail Damage News Update